• Mixed fruit combinations available in new Mango, Strawberry and Avocado Series
• Revamped menu with new toppings and more than 17 new beverages
Yanmi Yogurt, a pioneer of the purple-rice yogurt drink in Singapore, launches a revamped menu with over 17 new beverage options. Expanding on its popular Fresh Fruit Yogurt Series, the brand shakes up the healthy beverage scene yet again – this time with plenty of fresh, fruity flavours!
More Fruit Combinations
The Fresh Fruit Yogurt Series now falls under "Four Seasons" on the new menu as these refreshing smoothies will be available all year round as permanent offerings. There are three fruit series under "Four Seasons": Fresh Mango, Korean Strawberry, and Fresh Avocado.
Fresh fruits are blended with Yanmi Yogurt's signature yogurt that is made with Australian milk to derive a thick and creamy consistency. Under the new menu, mixed-fruit combination smoothies feature more prominently for a flavour burst and to reap the benefits from the various fruits used.
Fresh Mango features crowd favourites Mango Yogurt and Mango Sago Pomelo Yogurt which are now joined by six new mango concoctions. One of them is Rice BOBO Yan-Mango, a cup of mango smoothie that is filled to the brim with fresh chunks of mango cubes, a generous scoop of popping mango boba and topped off with Rice Bobo, or petite "tangyuan" balls. Every mouthful is an explosion of natural mango sweetness that is complemented with substantial bite from the copious toppings.
Another flavour bomb is Durian Yan-Mango Shake – a potent combination of two tropical fruits where full-bodied sweetness, creaminess and slight tartness blend perfectly with yogurt for an incredibly satisfying drink. It is capped with thick mango cubes and D24 durian flesh which can be enjoyed as a side of fruits on its own.
Topped with fresh whipped cream and strawberry slices, strawberry shortcake lovers will slurp up Strawberry Snow Mountain which is also available in super size. Go for Cheese Strawberry Yogurt for a creamy strawberry shake with a cheese foam finish.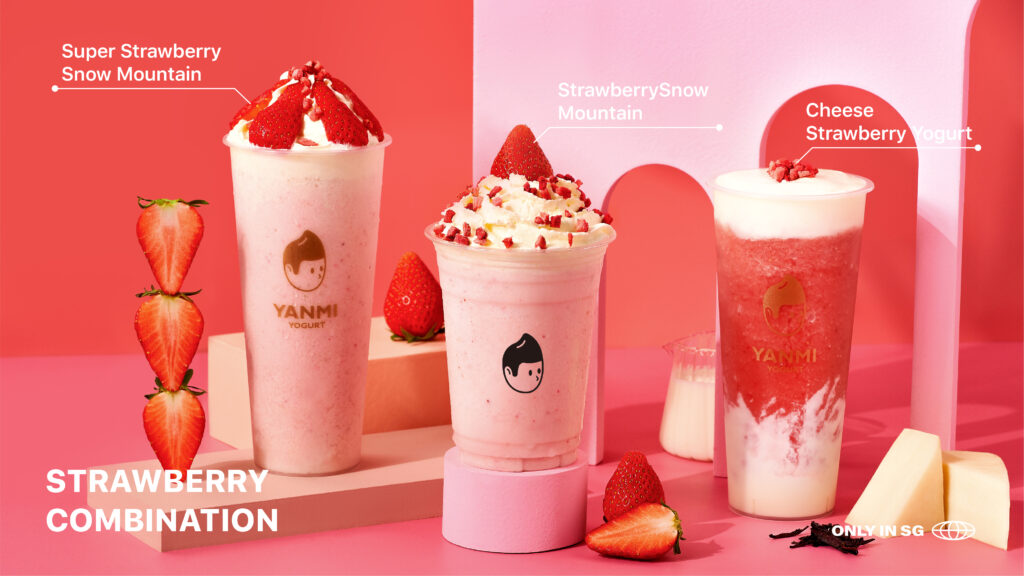 Yanmi Yogurt mixes up avocado-and-yogurt pairings with the introduction of Avocado Strawberry Yogurt and Avocado Pomelo Sago Yogurt to add a kick of fruitiness to the rich avocado flavour.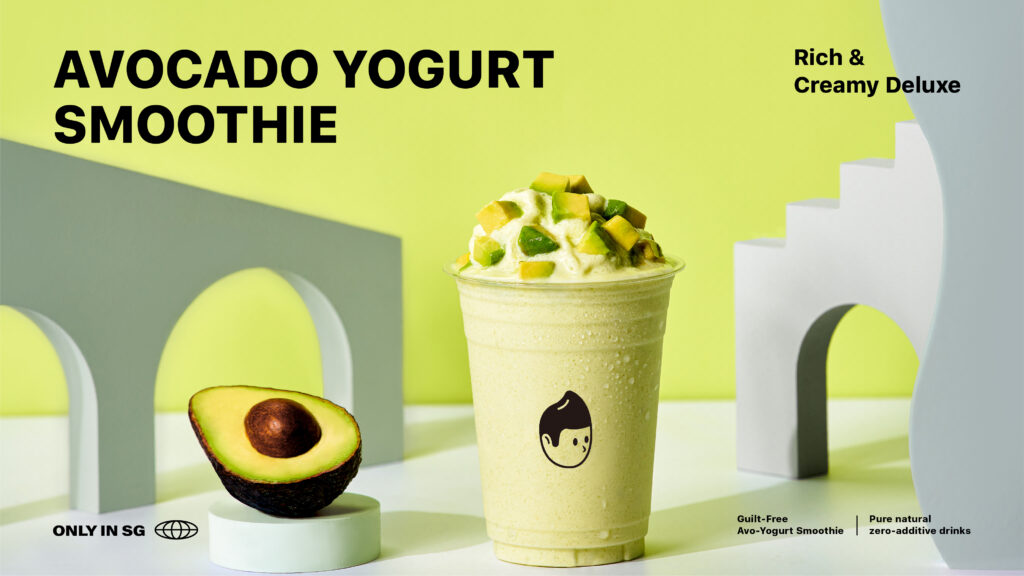 New Toppings Range
Aside from providing the expanded Fresh Fruits Yogurt Series, Yanmi Yogurt has also revamped on their selection of toppings to be added in to the beverages. Customers are able to enhance the flavour and texture of their yogurt drinks with Fresh Mango Cube, Fresh Strawberry Cube, Purple Rice, Qbo and Rice Bobo. Each fruit topping is 100g per unit.
The brand's signature Purple Rice Yogurt is still available along with other drinks in the classic series. Purple rice can also be added as a topping for a chewy bite that is rich in Vitamin B1, Vitamin B2, folic acid, protein and other nutrients. Handcrafted using all-natural ingredients, every yogurt drink at Yanmi Yogurt is brimming with probiotics which improve gut health and aid in digestion. All drinks are gluten-free and suitable for vegetarians.
Yanmi Yogurt has expanded to five outlets in Singapore, with the latest opening at Bishan Junction 8 in April 2021.
From 29 April to 12 May, Yanmi Yogurt is offering 10% off with a minimum order of 2 beverages at all outlets.