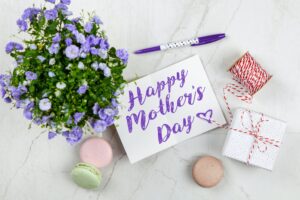 If you wish to surprise Mum this Mother's Day!
Mother's Day is a universal celebration for mothers – grandmothers, aunts, or anyone who is a mother figure in your life. Before celebrations get underway, it is all about the right brand awareness that will help you engage with your target audience.
1. Create a Mother's Day Package
Drop a lovely box of Mother's Day gifts to parenting influencers who will share your products with their followers and drum up engagement for your brand. Choose influencers wisely – there are thousands of influencers and microinfluencers out there but which will give you the best brand awareness? Whether it is food, lifestyle, fashion or design, make sure that the influencer is aligned with your brand values and can carry your products authentically.
2. Add Product Recommendations
Whether personalised, generic or category-specific, product recommendations remind your customers what your brand can offer them. They may wind up with some surprising finds that they will add to their list of must-haves. Optimise product recommendations using search engines and digital marketing to maximise your reach with the right target audience.
3. Hold Flash-y Online Mother's Day Sales
Ecommerce stores should consider saving a few promotionsf or the actual weekend of Mother's Day. Flash sales or one-day only events could be the motivator for procrastinators to whip out their credit cards and make that purchase for Mum. With so many promotions and products available, choosing to go simple may be a surprising and refreshing tactic. Offer a free greeting card for customers to pen down their appreciation for mum – the simplest yet most profound way of showing love this Mother's Day.
4. Give Customers the Choice to Opt-Out
By offering an opportunity for shoppers to opt-out of marketing messages related to the holiday, you make them feel understood and gain some insight into their preferences for future marketing campaigns. Customers will be refreshed by your brand's empathy in this world of hard-sell, relentless marketing.