Affluence PR focuses on the core areas of retail and F&B, making us the agency of choice for retailers and restauranteurs wishing to improve their brand visibility in Asia.
We target specific market segments so we can assure our clients that domain experts in these areas are handling their business, not an agency which takes on all comers.
Affluence PR is committed to delivering informed, media-savvy public relations services based on a superior industry knowledge, a real understanding of the issues that affect both our clients and their customers, and a genuine enthusiasm for what we do. Our aim is to act as a trusted extension of our clients' marketing departments, producing results that directly and positively impact on our clients' business objectives.
Affluence PR is also committed to providing an informal yet professional working environment that encourages and rewards creativity, insight, teamwork and enthusiasm. Affluence's culture and philosophy is based on a no-nonsense approach to public relations that values clarity of thought and honesty of expression above empty promises and meaningless talk.
In the crowded marketplace of retail and F&B, it is crucial to have a savvy, well-seasoned team strategising, coordinating, and implementing your public relations efforts. All of our promotions at Affluence PR are built on the same foundation: innovative campaign strategies; meticulous attention to client needs; and creative networking across the Restaurant and Retail industries. Affluence PR strives to create and implement innovative public relations campaigns for our clients in these specialised industries.
Affluence PR provides clients with an honest assessment of your communications objectives, a hallmark that has earned us the respect of communications professionals. This, along with our creativity, are two of the greatest points of differentiation between Affluence PR and other agencies.
At Affluence PR, we offer our valued clients a complete end-to-end solution, and a portfolio of complete and integrated public relations services. These are always customised.
Public Relations Strategies
Media Relations Strategies
Marketing Communication Strategies
Press Release writing
Press Release seeding
Media relationship building
Public Media/Relations Training
Public Media/Relations
Social Media Marketing
Influencer Marketing
Media pitching
Media follow up
Product launches
Media interest event concepts
Promotional campaigns
Corporate social responsibility campaigns
Social media campaign development, execution and maintenance
Corporate communications
Crisis management
Vendor liaison and management for campaign execution
To be the premier public relations agency for retail and restaurant establishments in Asia.
To consistently garner the best possible public awareness for our clients by being the foremost public relations experts in the retail and restaurant industry in each country we operate in.
Our core values driving our mission and towards our vision are INTELLIGENCE and INFLUENCE. We believe that as professionals in PR, the trust and respect our clients, vendors and partners are of paramount importance. With respect comes responsibility and stature which in turn confers on us the subtle power of INFLUENCE to enable us to make a difference in the world.
In this aspect, we will use our influence wisely and with INTELLIGENCE, so as to uphold the integrity and professionalism of our industry and our personal ethics as persons of upstanding moral responsibility to our clients.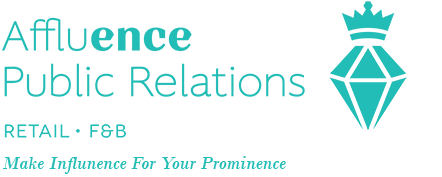 Our logo is made up of the word Affluence, a diamond and a Queen's crown.
The Queen's crown draws its inspiration from the queen chess piece. She is Dynamic and Versatile, and so we must too be, to understand world trends, business shifts and how our clients can benefit from these.
The Diamond symbolises Precision and Strength – Precision in our communications and our work; Strength in our beliefs and our competencies.
Affluence itself means 'Wealth' – a wealth that is beyond the monetary, which overflows the heart with satisfaction, freedom and happiness with the world.
Our tiffany blue colour portrays our aspiration to aim for the skies. Everyone who works with and in Affluence PR is destined for greater things, and is treated with respect and honour.
Put together, the logo serves to remind us of our purpose.