Affluence PR specialises in Public Relations for premium retail and F&B outlets. If you're a retailer or a restaurateur looking to cement your brand image all across Asia, you're at the right place!
What makes Affluence PR so distinct is the fact that our PR and marketing connoisseurs work on specific areas in the market, each targeting a point they specialise in. So if you reach out to us, we make sure you get the best possible service.
With a high rate of media literacy, an enthusiasm for innovation, and outstanding industry knowledge, our team is dedicated to providing top-of-the-range PR services that reflect a solid perception of the mechanisms behind public and media liaison. We aim to yield output that is in line with your business strategy, functioning as a trusted extension of your marketing department.
Our company is also devoted to providing a flexible and yet professional work environment that encourages and rewards creativity, intuition, insight, teamwork, enthusiasm, and any core value that imbues a sense of positivity. Our approach to solving any public relations issues is pragmatic that prizes clear-headedness and clarity of expression above all else.
In the cut-throat world of retail and F&B, it is essential to have PR & marketing specialists who construct, coordinate, and carry out your brand's strategy based on your brand's vision. The core principles of Affluence PR are meticulous attention to the client's needs, deconstructing the framework of a brand, constructing innovative campaign strategies, and creative networking across the competitive retail & restaurant marketplace.
What makes us stand out in the highly crowded marketplace of PR and marketing agencies is that we're honest in evaluating your communications goals. This, along with the creativity with which we construct a strategy to meet those goals has earned us the respect of the PR professionals.
We have comprehensive PR packages which entail services that provide an end-to-end solution for all your concerns regarding your retail establishment. Our services cover:
Public relations strategies
Media relations strategies
Marketing communication strategies
Press release writing
Press release seeding
Media relationship building
Public & media relations training
Public & media relations
Social media marketing
Influencer marketing
Media pitching
Media follow-up
Product launches
Media interest event concepts
Promotional campaigns
Corporate social responsibility campaigns
Social media campaign development, execution, and maintenance
Corporate communications
Crisis management
Vendor liaison and management for campaign execution
Our vision is to be the central public and media relations agency for all the upscale retail and restaurant establishments in Asia.
Our mission is to stimulate your brand's recognition and recall by being the foremost PR experts in the retail and restaurant industry in each country we operate in.
Our core values that steer our mission towards our vision are intelligence and influence. We believe that our clients, vendors, and partners are of paramount importance. Our respect for our clients confers on us the obligation to them for upholding the integrity, morality, and professionalism of our industry.
To fulfil this obligation, we utilize our team's intelligence which is sharpened by years of industry knowledge and hands-on expertise. With our brilliant PR aptitude, we aim to have a positive influence wherever we go.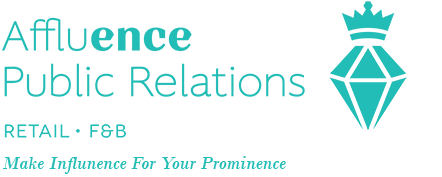 Our logo is made up of the word Affluence, and the shapes of a diamond and a queen's crown.
The queen's crown draws its inspiration from the chess piece of Queen. She is dynamic, versatile, adaptable, and arguably the strongest chessman. Incorporating this chess piece in our logo visualises the qualities that make our agency unique from other PR agencies and make us understand the constantly changing global trends, business shifts, and how our clients can benefit from these dynamics.
The diamond symbolises precision and strength — the precision in our communications and our endeavours, and the strength in our beliefs and our aptitude.
The word affluence itself means 'wealth' — wealth that transcends the material and steps into the realm where happiness and contentment are the ultimate ideals.
Our tiffany blue colour portrays our aspiration to aim for the skies. Everyone who works with and in Affluence PR is destined for greater things and is treated with respect, and honour.
Put together, the logo serves to remind us of our foremost principles and goals.